New Releases - Classics - Horror - Sports Events - Musicals - Westerns - TIFF - Concerts - Cult Classics- Birthday Parties - FUNdraisers - Special Events - Conferences - Meetings - Venue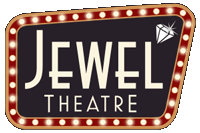 *The QR code will be the only valid proof of vaccination in Alberta. In accordance with guidance from the Government of Alberta, and our participation in the Restrictions Exemption Program, we require guests who are 12 years of age and older to be vaccinated (at least 14 days ago) and those 18 years of age and older to provide their proof of vaccination along with photo ID. A privately paid negative test within 72 hours of admission to the theatre is also acceptable. We ask guests to please arrive 30 minutes in advance of all showtimes.
Advertise on the big screen at the Jewel Theatre
For questions about advertising at the Jewel Theatre, please contact Wendy at 403-323-5555 or email wendy@rairdanservices.ca.
​
Our big screen, lobby, and 24hr outdoor screens are part of a digital display system of 19 screens located in high-traffic stores, restaurants, and entertainment centres in Stettler. Stettler Community Screens are owned and operated by Rairdan Services, Inc.
​
Community Screen locations:
​
Jewel Theatre

Big Screen​

Lobby

Outdoor Screen visible 24hr

Stettler Auction Mart Ring

PatchouliMint Spa

Heartland Bowling

County of Stettler office

Heart Haven Lodge

Stettler Building Supplies

Brenda's Cozy Cafe Cafe

Stettler Public Library

Stettler ER (24hrs)

Heartland Bowling Centre

Willow Creek Lodge

Central Alberta Ag Supplies

SAM Cafe (2)

Heartland Auto & Industrial Supply

The Coffee Tree ​

Paragon Place
​
Pricing
​
Basic Package: $299/mo for all Stettler Community Screens
Includes one new ad graphic per month with your ad showing a minimum of 10x/hr on each screen.
​
Compare our advertising prices and service to traditional advertising. Simple billing, once a month with the option to pay online, in person, or via mail.
​
​
​
Stettler Community Screens:
​
Average 12-15,000 views per week

have an 83% recall rate

show professionally designed graphic advertisements

promote your brand

update daily with new & relevant content to keep viewers interested in our screens​

only advertise local business (an exception to the Stettler Auction Mart)

can increase your engagement on social media platforms

can communicate important information in the event of a local emergency

show major sports scores for added content value

support the businesses in which they are located

Show movies times, local news, Clearview School Division information, County of Stettler information