New Releases - Classics - Horror - Musicals - Westerns - TIFF - Concert FIlms - Cult Classics- Birthday Parties - FUNdraisers - Special Events - Conferences - Meetings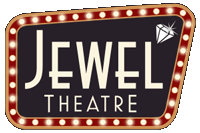 *In accordance with guidance from the Government of Alberta, and our participation in the Restrictions Exemption Program, we require guests who are 12 years of age and older to be vaccinated (at least 14 days ago) and those 18 years of age and older to provide their proof of vaccination along with photo ID. We ask guests to please arrive 30 minutes in advance of their showtime.
About Us
The Jewel Theatre was built in 1953 and has been a cornerstone of the Central Alberta community. Owned by Landmark Cinemas for many years, the theatre was in danger of closing in 2014 when it was purchased by the Geddes family. In December 2020, Stettler-owned company, Rairdan Services, Inc. purchased the theatre and immediately began renovations. A full upgrade to the theatre's electrical and plumbing was first, followed by the addition of a handicap accessible washroom, a kitchen, new flooring, new paint throughout, new fabric panels in the theatre, a new fire alarm system, and a new managers office was just some of the big changes made. Extra theatre seating was removed to allow for custom-built tables so guests could enjoy a full bar, a gourmet hot dog menu, and the theatre's famous popcorn. Renovations took six months.
​
Rairdan Family - December 2020
​
If you're in the area stop by and visit as we'd love to show you our fun, retro-themed, historic movie theatre, have you try the best popcorn in Alberta and try one of our gourmet dogs.
​
#seeyouatthemovies #stettlerjewel
The Rairdan Family
Staff & Management of the Jewel Theatre
Rose Chapman
Jewel Theatre
Operations Manager
Bree McRae
Jewel Theatre Asst. Manager
History of the Jewel Theatre
The Jewel Theatre - going strong since 1953
For Current pictures of the Jewel Theatre please visit our Gallery