New Releases - Classics - Horror - Sports Events - Musicals - Westerns - TIFF - Concerts - Cult Classics- Birthday Parties - FUNdraisers - Special Events - Conferences - Meetings - Venue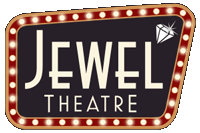 *The QR code will be the only valid proof of vaccination in Alberta. In accordance with guidance from the Government of Alberta, and our participation in the Restrictions Exemption Program, we require guests who are 12 years of age and older to be vaccinated (at least 14 days ago) and those 18 years of age and older to provide their proof of vaccination along with photo ID. A privately paid negative test within 72 hours of admission to the theatre is also acceptable. We ask guests to please arrive 30 minutes in advance of all showtimes.
The Jewel Theatre owners and staff work very hard to ensure that we do everything we can at the theatre to help decrease our carbon footprint by using reusable, recyclable and compostable materials.
​
Jewel Theatre is a winner of the 2021 Eco Excellence Awards sponsored by the Stettler Heartland Beautification Committee who reminds us that "No one can do everything. Everyone can do Something" when it comes to how we treat our environment.
Compostable Items​
hot dog containers
food wrappers
to-go bags
napkins
Biodegradable
straws
coffee stirrers
pop cups
popcorn bags
garbage bags
coffee cups and lids
clear mixed drink cups and lids
​
We order as much as we can locally including fresh food and hot dog buns and order all other products weekly to best manage inventory and decrease food waste
Recyclable
pop cup lids
beer cans
cooler cans
wine bottles & boxes
cardboard
condiment containers
food cans
cleaning product containers
Reusable
food storage containers and lids
food covers
silverware
batteries
​
Returnables
The money collected from all our returnables is donated to the local Stettler & District Handibus.
Staff Efforts
​
We encourage customers to leave their garbage on tables after movies so staff can clean and sort to ensure all items used by customers are sorted properly and go into the proper containers

We do not sell water bottles, however, you can get a free cup of tap water from our pop machines

Compost bin in the kitchen to collect all food waste

All cleaning products are environmentally friendly