New Releases - Classics - Horror - Sports Events - Musicals - Westerns - TIFF - Concerts - Cult Classics- Birthday Parties - FUNdraisers - Special Events - Conferences - Meetings - Venue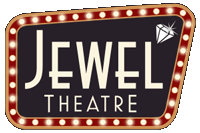 *The QR code will be the only valid proof of vaccination in Alberta. In accordance with guidance from the Government of Alberta, and our participation in the Restrictions Exemption Program, we require guests who are 12 years of age and older to be vaccinated (at least 14 days ago) and those 18 years of age and older to provide their proof of vaccination along with photo ID. A privately paid negative test within 72 hours of admission to the theatre is also acceptable. We ask guests to please arrive 30 minutes in advance of all showtimes.
We work hard to bring you great events at the Jewel Theatre. Live performances, concerts, special sports showings and more. Watch this page and our social media for event announcements.
​
If you are interested in events at our theatre please contact Wendy Rairdan at wendy@rairdanservices.ca or call
403-323-5555.
Edmonton Oilers vs Calgary Flames on the BIG SCREEN!
Stettler Variety Showcase presents John Wort Hannam. John is a JUNO Award Nominee, has an award for Canadian Folk Music Album of the Year and numerous Western Canadian Music Award and Canadian Folk Music Award nominations.
Stettler Variety Showcase presents Martin Kerr. Martin is an award-winning singer and songwriter from Edmonton Alberta.
Hold on to your maracas! Wiklund vs Wiklund are a wildfire with grit in their teeth and passion in their soul. With an infectious energy and raw honesty, this "small town" acoustic duo are larger than life with their bold, roots rock sound.