New Releases - Classics - Horror - Musicals - Westerns - TIFF - Concert FIlms - Cult Classics- Birthday Parties - FUNdraisers - Special Events - Conferences - Meetings - Venue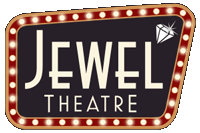 *The QR code will be the only valid proof of vaccination in Alberta. In accordance with guidance from the Government of Alberta, and our participation in the Restrictions Exemption Program, we require guests who are 12 years of age and older to be vaccinated (at least 14 days ago) and those 18 years of age and older to provide their proof of vaccination along with photo ID. We ask guests to please arrive 30 minutes in advance of their showtime.
Senior Screenings
In collaboration with the New Horizons for Seniors Program, the Jewel Theatre offers 1-2 free matinees a month for seniors 65 and over. All seniors welcome!
Residents from Paragon Place, Heart Haven and Willow Creek will receive a free coffee/tea or small pop, a small popcorn with transportation by the Handibus.
Senior Screenings Sponsors
Senior Screenings are sponsored by New Horizons for Seniors Program in collaboration with Rairdan Services, Inc., County of Stettler Housing Authority and Stettler & District Handi-bus Society. Our thanks to Brenda's Cozy Cafe, Rotary Club of Stettler, Superfluity and our local IODE for also supporting our program with homebaked treats and handibus passes. #stettlertogether