New Releases - Classics - Horror - Musicals - Westerns - TIFF - Concert FIlms - Cult Classics- Birthday Parties - FUNdraisers - Special Events - Conferences - Meetings - Venue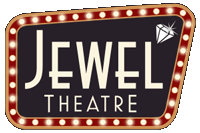 *The QR code will be the only valid proof of vaccination in Alberta. In accordance with guidance from the Government of Alberta, and our participation in the Restrictions Exemption Program, we require guests who are 12 years of age and older to be vaccinated (at least 14 days ago) and those 18 years of age and older to provide their proof of vaccination along with photo ID. We ask guests to please arrive 30 minutes in advance of their showtime.
Popcorn for Charity Program
The Jewel Theatre has an odd, half-hour shift right before movie times when we need someone to bag popcorn for customers.
We also know that local organizations are struggling to raise dollars.
How can we solve both problems?
Popcorn for Charity Program!
For every half-hour shift you bag popcorn for us before showtimes, we donate $20 to a charity of your choice!
How it works:
Register to be a Popcorn Volunteer here >

Wendy will call you and organize a 30 minutes - 1 hour training session.

After your training, you may sign up for shifts.

We send out an email to all our volunteers on Mondays confirming everyone's shift for the week

At the end of the month, we calculate your shifts and donate to your charity.

Volunteer also gets a free large popcorn & coffee/pop at the end of their shift! Bonus!
Easy for you, great for our local charities, helps out the Jewel Theatre, and it's fun!
For more information on Popcorn for Charity Progam, please call Wendy at 403-323-5555 or email wendy@rairdanservices.ca.
Popcorn Volunteer Policy
Most businesses see their customers over the course of a day; we see all our customers in 45 minutes! Because of this, bagging popcorn is a HOPPING job.
​
All volunteers require 30 minutes - 1 hour training session before approved to serve popcorn.

Please give us at least 2 days notice if you are unable to make your shift.

All volunteers are asked to arrive five minutes early.

Keep in mind that you will get oil and/or butter on yourself, so expensive clothing or your best clothing is not reccomended. That being said, all clothing must be clean and in good shape - no sweat/yoga pants, clothing with rips or clothes showing too much skin, no sleeveless shirts. Shorts must be longer than your fingertips with arms at your sides. No clothing items should have logos or written words that are offensive or inappropriate for a work environment. Plain colored t-shirts are recommended.

Please wear closed-toe, comfortable shoes. It's a busy 30 minutes!

All volunteers must have COVID-19 vaccinations and wear a mask while bagging popcorn.
​