New Releases - Classics - Horror - Sports Events - Musicals - Westerns - TIFF - Concerts - Cult Classics- Birthday Parties - FUNdraisers - Special Events - Conferences - Meetings - Venue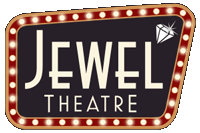 *The QR code will be the only valid proof of vaccination in Alberta. In accordance with guidance from the Government of Alberta, and our participation in the Restrictions Exemption Program, we require guests who are 12 years of age and older to be vaccinated (at least 14 days ago) and those 18 years of age and older to provide their proof of vaccination along with photo ID. A privately paid negative test within 72 hours of admission to the theatre is also acceptable. We ask guests to please arrive 30 minutes in advance of all showtimes.
The owners and staff of the Jewel Theatre are very thankful for the amazing community that has supported our theatre for almost seven decades. Supporting our local non-profits is just one way we like to give back to our community.
​
Fill out the form below and Wendy, will contact you.
​
For questions call 403-323-5555 or email wendy@rairdanservices.ca
​
Call Wendy at 403-323-5555 to discuss your FUNdraiser date.
Market your FUNdraiser on your social media, your website and to friends and family. The more customers you get in the door, the more money you raise! Fundraisers must be marketed for a minimum of three weeks.
Receive 20% of all Concession Sales!
Have a representative at the theatre for the hours of your event to help with clean-up and you receive 20% of all concession sales for your Fundraiser! You can pick up a cheque within five business days of the event and drop off a Tax Deductible Receipt for the donation amount at the same time. Easy!