New Releases - Classics - Horror - Musicals - Westerns - TIFF - Concert FIlms - Cult Classics- Birthday Parties - FUNdraisers - Special Events - Conferences - Meetings - Venue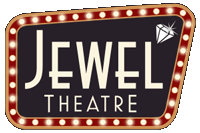 *The QR code will be the only valid proof of vaccination in Alberta. In accordance with guidance from the Government of Alberta, and our participation in the Restrictions Exemption Program, we require guests who are 12 years of age and older to be vaccinated (at least 14 days ago) and those 18 years of age and older to provide their proof of vaccination along with photo ID. We ask guests to please arrive 30 minutes in advance of their showtime.
Time & Location
Jun. 17, 7:00 p.m.
Jewel Theatre, 5010 50 Ave, Stettler, AB T0C 2L2, Canada
About
Code-named "Maverick", Pete Mitchell, the impetuous daredevil Navy-pilot ace, is accepted into Miramar's elite Fighter School, also known as "Top Gun". There, as the impulsive pilot competes with the best of the best, not only will he meet Charlie, the flying school's curvaceous astrophysics instructor, but also the brilliant and highly competitive fellow student, "Iceman", with whom right from the start, he will engage in a reckless contest. As Maverick is haunted by his father's mysterious death, will he be able to suppress his wild nature to win the prestigious Top Gun Trophy?