New Releases - Classics - Horror - Musicals - Westerns - TIFF - Concert FIlms - Cult Classics- Birthday Parties - FUNdraisers - Special Events - Conferences - Meetings - Venue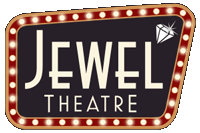 *The QR code will be the only valid proof of vaccination in Alberta. In accordance with guidance from the Government of Alberta, and our participation in the Restrictions Exemption Program, we require guests who are 12 years of age and older to be vaccinated (at least 14 days ago) and those 18 years of age and older to provide their proof of vaccination along with photo ID. We ask guests to please arrive 30 minutes in advance of their showtime.
The Jewel is a great venue for events, conferences and meetings with 200 comfortable seats, 27 six-foot tables, a 38ft Silver Screen for presenting, and an on-site concession that makes your event easy to plan.
​
We can arrange:
Catering - Breakfast, lunch, dinner, snacks and coffee & tea service
​
Marketing - Digital advertising on 19 Stettler Community Screens (includes our big screen, lobby and 24hr outdoor screen), our newsletter, the Jewel Theatre marquee, our social media, website and more.
​
Parking - For large events we can help direct attendees to free local parking.
​
​
Contact Wendy to book your meeting or conference.
​
403-323-5555 wendy@rairdanservices.ca
​
Rentals for up to 3 hours
*For full day rentals please contact us
​
Up to 20 guests - $150 with $50 deposit
21-50 Guests - $210 with $100 deposit
50+ Guests - Please call Manager & $200 deposit
​
Message on the outdoor marquee on the day of your event: $50
​
Deposit due at time of booking. If you cancel your booking and the venue is rebooked for that time you will get a full refund.

Any food and drink sold at the theatre are not allowed to be brought in.

DVD/BlueRay and HDMI capabilities.

Rentals with over 50 guests will receive a 10% off concession bill.

Rentals with over 100 guests will receive a 20% off concession bill.

The venue is cleaned to COVID-19 protocols. Please follow current COVID-19 protocols.
​