New Releases - Reel Good Coffee Bar - Stettler Film Festival - Conferences - Meetings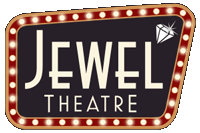 The Jewel is the perfect venue for meetings and conferences with 200 comfortable seats, 27 six-foot tables, a 38ft Silver Screen for presenting, and an on-site Coffee Bar and concession that makes your event easy to plan.
​
We can arrange:
Catering - Breakfast, lunch, dinner, snacks and coffee & tea service.
​
Marketing - Digital advertising on 16 Stettler Community Screens (includes our big screen, lobby and 24hr outdoor screen), our newsletter, the Jewel Theatre marquee, our social media, website and more.
​
Parking - For large events, we can help direct attendees to free local parking.
​
Contact Sandra to discuss rental, food & drink service.
​
403-323-5555 sandra@rairdanservices.ca