New Releases - Classics - Horror - Sports Events - Musicals - Westerns - TIFF - Concerts - Cult Classics- Birthday Parties - FUNdraisers - Special Events - Conferences - Meetings - Venue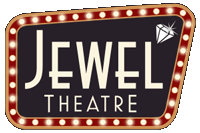 *The QR code will be the only valid proof of vaccination in Alberta. In accordance with guidance from the Government of Alberta, and our participation in the Restrictions Exemption Program, we require guests who are 12 years of age and older to be vaccinated (at least 14 days ago) and those 18 years of age and older to provide their proof of vaccination along with photo ID. A privately paid negative test within 72 hours of admission to the theatre is also acceptable. We ask guests to please arrive 30 minutes in advance of all showtimes.
We are driven by our passion for delivering exceptional movie experience for all our guests. If you share this passion and a love for movies please read on!
​
The Jewel Theatre occasionally hires for kitchen and/or front counter staff. Our jobs are primarily evenings and weekends with some hours during the week for rentals and special events. Available job positions are listed to the right when available.
​
Please do not apply if you can not meet the following criteria:
​​
You must be 18 years of age to work at the front counter

You must be willing to provide excellent customer service through good communication with customers and staff

Be punctual and dressed appropriately for work

Keep up with your work schedule

Follow all company safety policies for staff and guests

Get your Food Safe Certification - All Staff (not required before hiring)

Get your Pro Serve Certification - *Front Counter staff only (not required prior to hiring)

Be able to accept direction and support from supervisors

Be part of a team effort to ensure our guests get great food, drinks, popcorn and a great movie experience ​
​
​
To apply for a position at the Jewel Theatre please submit your resume with three references to jeweltheatre@rairdanservices.ca with the subject of the email the position (listed on the right) that you are interested in. Your references will not be contacted until after a successful interview. Only those considered for interview will be contacted. Applications not following these instructions will not be considered.
​
​
Jewel Theatre is locally owned and operated by Rairdan Services, Inc.
Positions Currently Available
We are not hiring at this time.
Why work at the Jewel?
​
Flexible shifts

Fun and dynamic environment

Collaborative culture

Staff discount of 40% off everything including tickets, food and drinks

Free meal when you work through meal times

Great management team

Potential for advancement & increases in pay
​